Ecolumber Food
production and commercialisation

of dried fruits
Ecolumber Food, forms part of Grupo Ecolumber, and is the business unit responsible for the production process and commercialisation of the dried fruit cultivated by Ecolumber Agro.
With quality as a main axis in the entire work methodology of Ecolumber Food, we perform all the processes for the transformation of the products from when they enter into our plants until reaching the client.
Our suppliers strictly comply with the demands of our quality system. We perform constant and detailed controls of the raw materials in our own laboratories.
We work with the raw materials from their origin. This means we import directly from the United States, Brazil, Turkey, Iran… In addition, we have our own dried fruit plantations in Spain to supply our brands, all included in the Ecolumber Agro Division.
The raw materials are stored in temperature and humidity-controlled rooms to maintain their original organoleptic properties, characteristics, and flavour.
Commercialisation by product type
Our products are subject to different processes according to what their usage will be.
Raw nuts and dried fruits
Almonds, hazel nuts, pine nuts, sunflower seeds
Processed nuts and dried fruits
Cashews, toasted hazel nuts, fried peanuts, dried fruit cocktail, toasted pistachio, walnut
Red bilberry, plums, dates, peach, apricot, raisins
A new product, innovative, healthy and with a delicious taste to the dried from which it is made. These are the snacks that allow you to enjoy without feeling guilty.
Your healthy nuts and dried fruit Crunch.
Air Nuts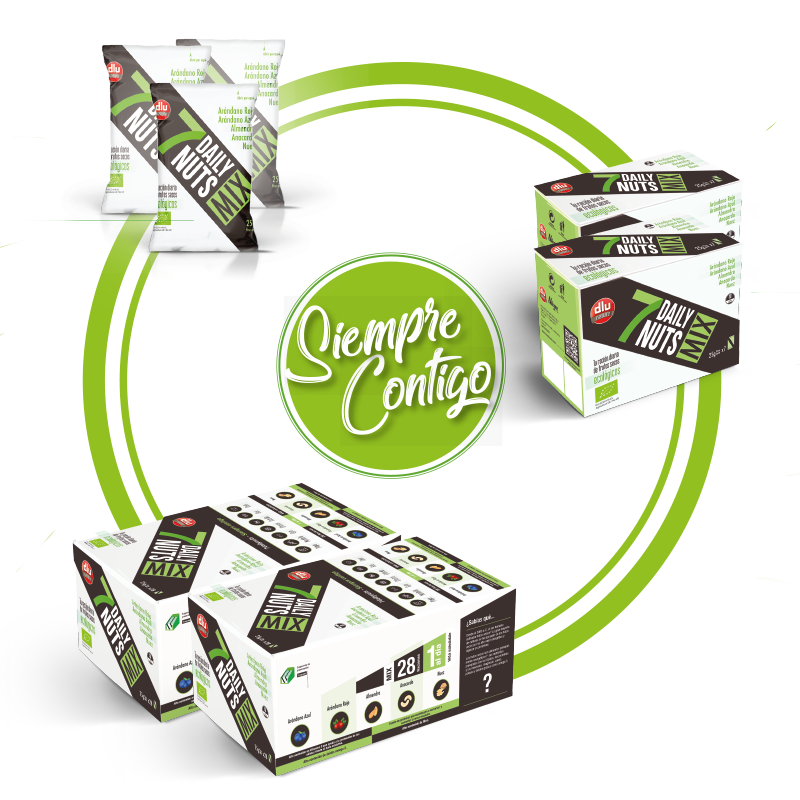 A mixture or almonds, cashew nets, walnuts, and red and blue bilberries with a high content of vitamin E, Omega 3 acids, and fibre, and a source protein that contribute to conserve and increase muscle mass.
7DailyNuts wants to help you maintain your health every day.
7 Daily Nuts
DLU NATURE selects, prepares, packages, and distributes dried fruits, desiccated, and dehydrated, extra-soft fruits for the end user, as a product range especially designed for catering.
All the products prepared and packaged by DLU Nature are gluten free.
DLU Nature
Total Square meters: 2200
Packaging room: 300m2
Cooling room of 300m2
Cooling room capacity: 150 pallet of 600 kg each pallet.
SGA System
---
Domingo de Sautu Kalea,
92 Pgno Ind Zuiaa, 01130 Murgia, Álava
Total Square meters: 2200
Packaging room: 882m2
Raw Material Store: 603m2
Cooling room of 357m2
---
N-I, KM 15409471 Fuentespina, Burgos